GOLFING HOLIDAYS AROUND THE WORLD
In years to come the universal popularity of golf will probably see golf courses being built on the moon, or even Mars, but, since that will be a far off dream, we would like to invite you to play your favourite sport down here on Earth.
We have been curating a wide range of golfing holidays which, while allowing you to enjoy a round on some of the best courses in the world, will also open up the joys of travelling to, perhaps, unexpected destinations
Apart from being a great way to see new countries, there will also be chances to interact with fellow enthusiasts, forge unexpected new friendships and even explore business development possibilities, something which is so important in these times of uncertainty.
We have to begin with our own country of Wales. Not always known for its golf courses, but we do have superb links courses, which all have their quirks, leading to interesting rounds being played. To find out more about golf in Wales please follow the link to our inbound tour company, Wales Beckons, where there is much more information about playing golf here.
Wales aside though, we are pleased to be able to organise golfing tours to such diverse countries as Sri Lanka, the island of Bali in Indonesia, Vietnam, Taiwan and India. More countries will be added as soon as we have been able to ensure that what you encounter when you arrive will not fail to fulfil all your expectations.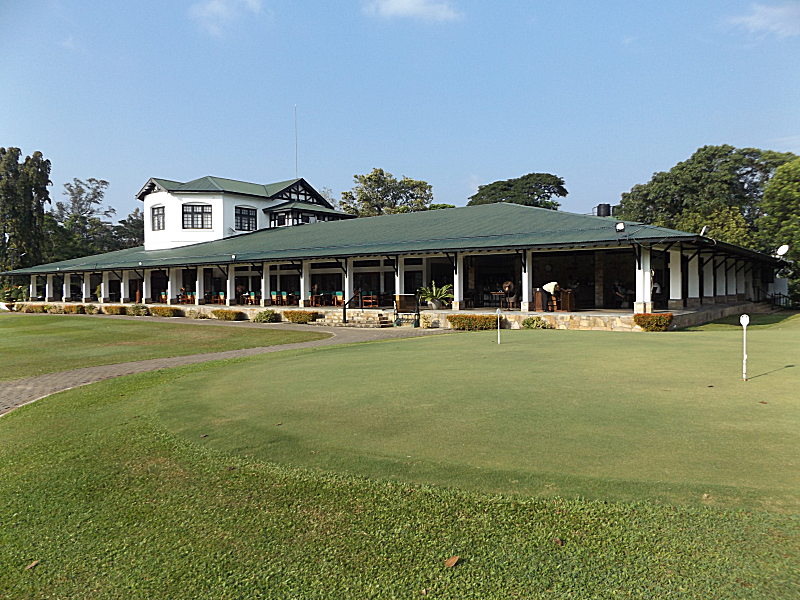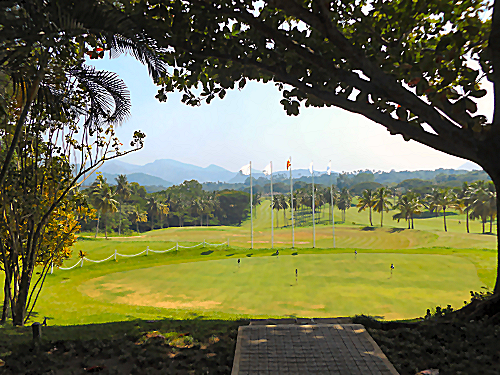 The magical island of Sri Lanka is a renowned destination for yoga and traditional Ayurveda – but did you know it is also a great golfing destination?
The "Land of Serendipity" brings plenty of surprises for the golfer, too.
There are several reknowned world class golf courses, amongst them, Royal Colombo in the capital city of Colombo, Victoria Golf Club & Resort in Kandy and the oldest golf course in Asia, Nuwara Eliya high in the mountains of the tea country and the Shangri la Resort course at Hambantota.  Each of these golf courses have their own challenges and charms and you will delight in each one.
Travel with your own group of friends – play a round against the local golfers – just enjoy the delightful surroundings on each of these courses. The beauty of this tiny island is simply breath-taking and the country's heady mix of British colonial heritage make it a beguiling destination.
Add a few days and see much more of the island from its ancient cities with their amazing architecture, temples and more.  Stay at Galle Fort for a couple of nights and relax in it's gentle atmosphere. You'll be glad you did.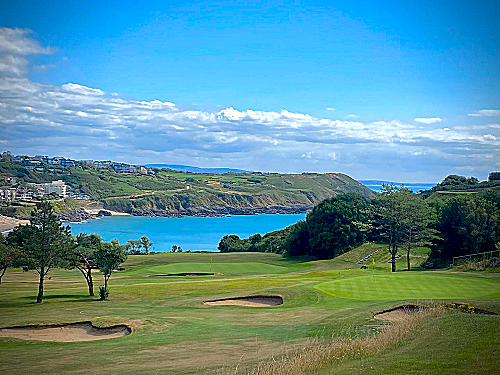 Wales has many Links courses, but there are courses throughout Wales, some 176 in all, located in areas where the beauty of Wales can be appreciated and provide a wide range of playing conditions and degrees of difficulty, sometimes challenging, sometimes easier.
Wales' Ryder Cup course at Celtic Manor is world famous, but, we appreciate the attraction of Links courses is just as compelling. With so many wonderful golf courses in beautiful unspoilt countryside the toughest decision is where to play on your Welsh golf break.
From The Celtic Manor Resort, home to the Ryder Cup 2010, the World Famous Royal Porthcawl Links Course, Tenby or Ashburnham Links Courses? Mid Wales Courses at Cradoc, Llandrindod Wells, or, Builth Wells? Or, North Wales Golf Clubs, home to Royal St Davids, Nefyn & District and Conwy.
These courses are only the tip of the iceberg with so many other great golf courses in Wales waiting to be discovered.
With a fine selection of golfer friendly hotels, guesthouses and pub accommodation close to the golf courses, we can tailor a golf break to suit your requirements. Take a look at our dedicated Wales golfing holidays page on "Wales Beckons"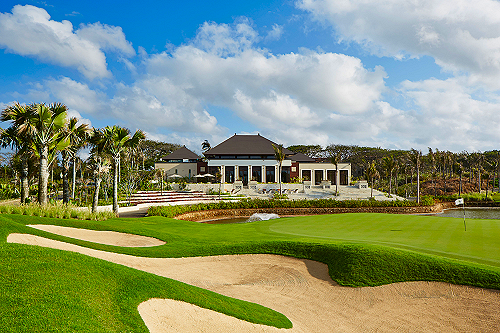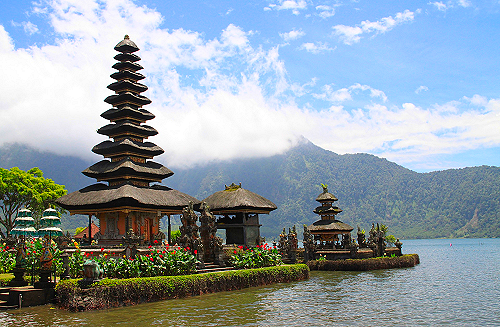 EXOTIC BALI GOLF and much more
A perfect holiday for those interested in golfing and visiting a fascinating, exotic country.
Everyone has an image of the 'Bali Hai' island with its welcoming people, colourful, exotic plants & flowers and soft sandy beaches, but did you know it also has some terrific golf courses?
You can play on these and also enjoy a relaxing holiday, plus do some mind blowing sightseeing. Temples, one perched on the edge of steep cliffs from where, overlooking the sea, you can watch the brilliantly coloured sunset  – traditional fishing villages – exotic dancers in exotic costumes – the sound of gongs and gamalans in the distance, all add up to a magical holiday – with golf!  And you will stay at top quality hotels, or, golf clubhouses so you'll be right on the spot!
You can opt for a golf focussed holiday, a sightseeing one, or, the best option, a combination of both to suit everyone.
Just give us a call.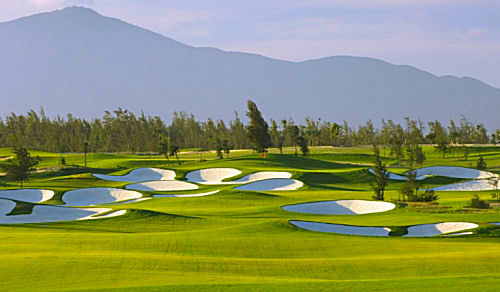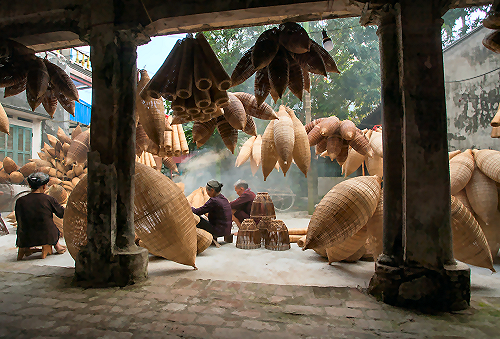 Vietnam is a country with many golf courses, stretching from Hanoi in the far north right to Hi Chi Minh City in the far south. Many are coastal links courses.
We offer you three individual golf centred tours visiting north, central, or, south Vietnam individually, where you can have a golfing holiday short break, or, you can combine two, or, all three of the tours and  extend your time to play more courses and links and see more of what this fascinating country can offer the travelling golfer.
All the holidays are combinations of golfing and sightseeing, so you can travel with a non-golfing partner and both have a great time.  As well as golfing, you can visit Hoi An town with its canals and rivers and special food; take a cruise on famous Ha Long Bay with its limestone pinnacle islands; play at Danang's famous Jack Nicklaus designed golf course. At Ho Chi Minh City, play at Long Thanh Golf Course, before moving on to the Sea Links Course at Phan Thiet, visiting fascinating local markets, temples and other places of interest en route.
Mix and match as you prefer. Vietnam has much to offer both the golfer and tourist in you.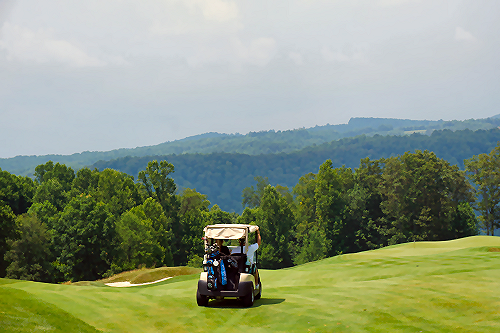 Taiwan is not somewhere which might immediately spring to mind for a holiday, golfing  or otherwise, but it is an island rich in ancient culture – and golf!
The island has some great golf courses and you can play on a few of them on this terrifically different golfing holiday.   Sunrise Golf & Country Club… the Chang Gung Golf Club….. National Golf Country Club to name only three.  All these courses offer their own challenges which will be very different from the ones on the courses you will be used to playing.
As well as golf, we will incude some great sightseeing, too.  Taiwan has a very special ancient culture and some sightseeing is a 'must' for anyone visiting for the first time.  A tour of the capital city of Taipei is a 'must', of course, but you can also visit Yingge Street, famous for its ceramics…. the Tse En Pagoda and Wenwu Temple, both so typical of the local ancient architecture and we will also include a cruise on a yacht on Sun Moon Lake.
Taiwan is a destination of surprises and delights – and golf!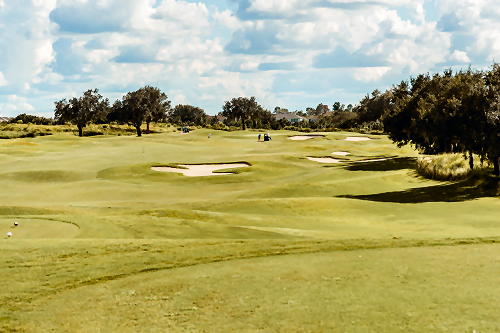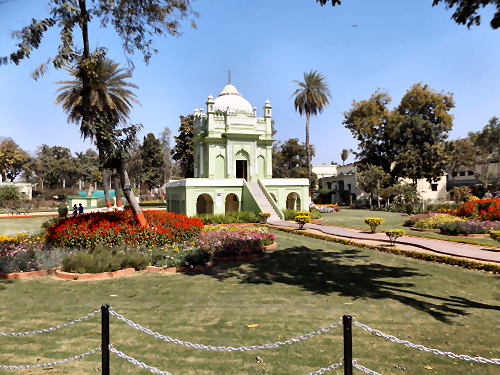 The Indian sub-continent has a wealth of golf courses, many of them originally created by the British Raj, but still very much in use today. Some are only 9 hole courses, but are played twice to make up the 18 holes normally played today!
Most of the courses are inland and not links courses and are located close to the major cities or old British cantonments and are kept up to par by the Indian Army nowadays.
From Delhi, where there are several courses, to central Indian Bangalore and Mysore, east Indian Chennai (the erstwhile Madras), south Indian Kerala and even a course next to the world famous Taj Mahal, Indian golf courses can offer you an experience unlike any other.
Contact us and let us create the perfect golfing holiday in India for you and your companions.
Get 10% Off With a Group Booking
Book a Yoga trip with NEI UK and feel how calm you can be!
WHAT ARE YOU WAITING FOR?
4 Gorsto Rd
Gwaun-Cae-Gurwen
Ammanford SA18 1UW
"NEI UK to..." is a trading name of "Wales Beckons Ltd" (Reg in England and Wales, Company No. 9662852) with whom all bookings are made. We do not supply any flights and none are included in our tour prices.